8 Jun 2022
The dream of owning a small home - individual and flexible
Exhibitors of the NEW HOUSING - Tiny House Festival 2022 introduce themselves
Europe's largest Tiny House Festival will take place from 01 to 03 July 2022 at Messe Karlsruhe. Tiny House fans will meet here to discover the diversity of this small form of living. The NEW HOUSING - Tiny House Festival will be accompanied by a varied programme of lectures. The exhibitors will show how every visitor can fulfil his or her dream of owning a tiny home.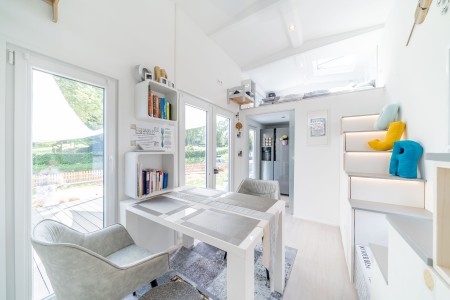 Flexible living modules for every living situation
From shell to turnkey, Heinz Diekmann GmbH builds high-quality Tiny Houses in timber frame construction on car trailers. The conscious renunciation of anything superfluous creates more possibilities. The houses are mobile and can be individually designed. On offer are small self-sufficient holiday homes through to double houses with planning permission. "The Tiny House Festival in Karlsruhe is the meeting place for all Tiny House fans, manufacturers and supporters in Germany and neighbouring countries. As an industry meeting place for exchange and networking, an information exchange for the curious and a showroom for new products, the festival has firmly established itself in the Tiny House scene'', Heinz Diekmann GmbH is pleased to say.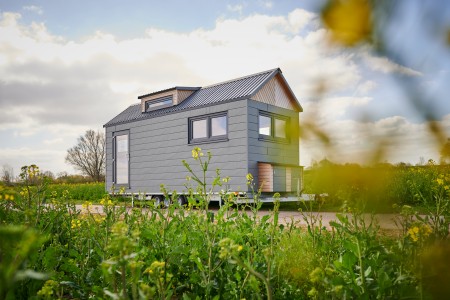 "We don't just build furniture, we also build the whole house".
As an ideal complement to their furniture carpentry, Wöhltjen has also been building Tiny Houses since 2015. The mini houses are offered on wheels and also as small modular houses up to 50sqm. The traditional handicraft business attaches great importance to high-quality materials and production in Germany according to ecological standards. With the construction of a Tiny House, Wöhltjen enables sustainable and environmentally conscious living in nature or in the middle of the city and presents this at this year's NEW HOUSING - Tiny House Festival.
Living in the place of your choice
Aurora Company from Poland wants to enable customers to live wherever they want. The houses are offered on specially adapted trailers that can be placed anywhere. The Tiny Houses are deliberately designed to replace a comfortable flat. They are delivered to any location across Europe, depending on needs and budget - from unfurnished to fully equipped houses.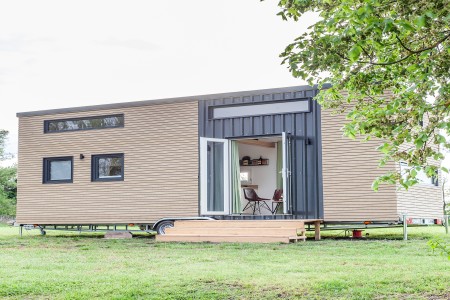 Reducing the ecological footprint
NEW HOUSING exhibitor Tinyhouse Studios is excited by the idea of reducing oneself materially, but still living comfortably in a home of one's own. Because living space becomes more affordable and the ecological footprint is reduced. And because Tiny Houses are a modern and exciting new form of living, which is a valuable addition to the spectrum of the real estate world. Master carpenter and certified designer Simon Hatzing and his team build modern Tiny Houses of the highest quality. They attach great importance to individuality, comfort, well thought-out design and environmentally conscious materials.
Sustainable living
At Tiny House und Wohnmobile GmbH from Wenzenbach, special emphasis is placed on quality and precision. With their Tiny Houses, they offer a high level of comfort as well as an excellent living experience. At the same time, the company pays attention to sustainable aspects when building the tiny houses: If desired, they can be equipped with a photovoltaic system during production. The possibility of connecting a precisely coordinated air-conditioning system is also already integrated into the shell.
Linking Tiny House developers and people interested in living there
Tiny Houses can be the solution for many communities when it comes to the interim use of land, the creation of social housing and the promotion of ecological solutions. VILCOMO are a kind of general planner, developer and manager for communities. The company uses the versatility of Tiny Houses to give communities the opportunity to complement local structures and create housing for a certain period of time. "The Tiny House Festival is a wonderful opportunity to discover the versatility but also the quality of Tiny Houses. VILCOMO is the first and so far only company that sees itself as an interface between all parties involved. We connect the communities with people interested in living and the Tiny House developers", says Fabian Müller from VILCOMO. "That is what Tiny Houses are all about. Working together on something and creating a sustainable solution with and for everyone."
Tiny Smart Home
Tiny houses express a way of life with a lower ecological fingerprint. They are versatile in use, individual in design and flexible in location. The Tiny Houses from TINY-HOUSE-WORLD.de, a brand of Projekta-SEN GmbH, can be built with building permission and are also street-legal. They are individually planned and manufactured according to the customer's wishes and feature a complete range of sophisticated technical equipment, including a SmartHome solution. If desired, the customer can also build his own Tiny House.