3 Jul 2022
NEW HOUSING inspires Tiny House fans
Europe's largest Tiny House Festival successfully brings supply and demand together
The NEW HOUSING - Tiny House Festival underlines the great interest in the Tiny House living trend. From 1 to 3 July 2022, around 7,000 Tiny House enthusiasts - significantly more than expected - came together at Europe's largest Tiny House Festival at Messe Karlsruhe to experience the diversity and range of small, alternative forms of living. In a Tiny House village of 25 small houses on the open-air grounds of Messe Karlsruhe, they had the opportunity to network with each other and to find out and exchange information about life in the smallest of spaces from manufacturers, suppliers, do-it-yourselfers, clubs and associations. Food trucks and a bar also invited visitors to linger.
"The NEW HOUSING - Tiny House Festival pays outstanding tribute to the trend towards sustainable living and thus has a forward-looking effect, especially here in Karlsruhe. As organiser of the festival and at the same time as initiator of the Tiny House Association, we bring the community together and set an example for smart developments in the topics of building and living", says Britta Wirtz, Managing Director of Messe Karlsruhe.
Project manager Frank Thieme adds: "Tiny Houses create high-quality living space on small areas that are not suitable for classic residential development, for example because they are only available temporarily. Here, the festival serves the trend of sustainable use of land to create living space and drives the development towards lower resource consumption and the use of innovative building materials."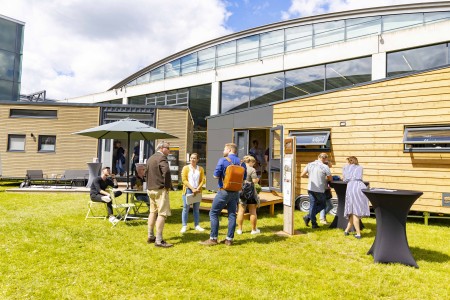 Manufacturers of Tiny Houses met with interested parties
On the open-air grounds of Messe Karlsruhe, manufacturers were available to answer questions and pass on first-hand information to interested parties. Exhibitors from all over Germany were present, including market leaders as well as carpentry workshops and start-ups that have built up a second livelihood by building Tiny Houses.
Master carpenter Stephan Wöhltjen emphasises: "I am overwhelmed by the number of visitors and the wide range of visitors. On the one hand, we meet visitors who are starting from scratch. On the other hand, however, we also meet visitors who come here already interested and with a lot of prior knowledge, who ask specific questions and deepen their knowledge or enter into professional exchange with us. It is a very successful fair." Stefan Diekmann, Managing Director of Heinz Diekmann GmbH and an exhibitor from the very beginning, adds: "The development of the festival since 2018 has been positive. We have had many interested visitors. They inform themselves and then come to us in a few months when they find a suitable property and order a Tiny House."
Interior designer Bianca Gärtner from Tiny House Wohnträume was there for the first time in Karlsruhe with her start-up and is very satisfied: "We have some interested parties and one visitor will already come from Wiesbaden to us in Leer in East Frisia in the coming weeks to have a Tiny House individually planned for her."
For the first time, there were also exhibitors from other European countries, including Latvia, Poland and Belgium. Orhun Şimşek, Business Development Manager at Turkish exhibitor Mooble House says: "We are really happy to be here because we believe that this is the most important and significant trade fair for Tiny Houses in Europe. We have participated in many other fairs as exhibitors, but this is where all the companies and communities meet. It was really important for us to exhibit here because now we could get in touch with the end customers and get valuable feedback from them."
New in 2022, there was also an info mile in the entrance area of the fair with a variety of advice for future Tiny House residents as well as suppliers and outfitters. There, regional Tiny House associations and the Tiny House Association, among others, presented their work and were on hand to answer questions. Regina Schleyer, Chairwoman of the Board of the Tiny House Association, which structurally represents over 2,000 members in German-speaking countries, says: "The number of visitors is really overwhelming. There is a lot of interest, people are very open-minded and interested in the association. We succeeded in presenting what local offers are being developed in the associations nationwide. We are really very satisfied with the fair, a complete success."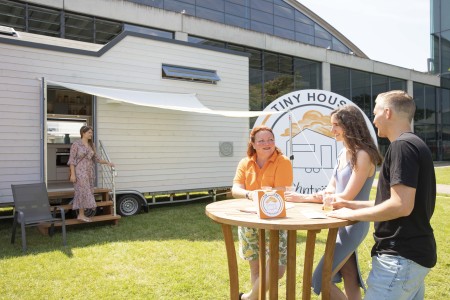 Live and in colour: Tiny Houses convince visitors
The visitors came to Karlsruhe from all over Germany and beyond its borders to find out about small alternative forms of living. They particularly appreciated the opportunity to make personal contact with the manufacturers and to visit the Tiny Houses on site. The combination of a relaxed festival atmosphere with food trucks and a platform for exchange and networking was very well received by the visitors.
Angelika and Günter Geys from Wolfartsweier were satisfied with the range of products on offer at the fair: "We looked at almost all the houses and got helpful information. There are even two houses that we like very much. Now we're just looking for plots, then we'll make an appointment with manufacturers and stop just dreaming about it." Steffi Seibert from Unterelsbach in Lower Franconia adds: "We have already built a Tiny House and want to see what other possibilities there are here. We will definitely come again and recommend the festival to others." Anke Bruske from Berlin was particularly enthusiastic about the interior design of the Tiny Houses: "It was very interesting to see how the houses are furnished on the inside. There were many good ideas also for older people, such as lift beds."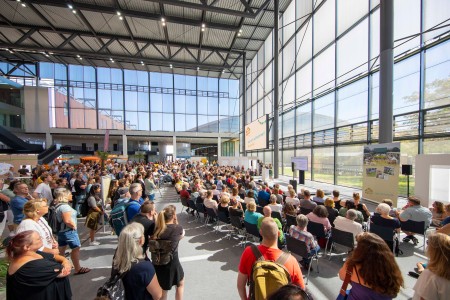 Meeting place for the Tiny House community
The lecture programme at the festival complemented the exhibition and offered insights into successful self-building stories, topics such as self-sufficiency, sustainability and pitch search as well as informative literature. Topic-relevant lectures with experts passed on tips and tricks as well as experiences within the Tiny House community.
Among others, Tiny House architect Anne Kozlowski was present. She gave a lecture on the topic of Tiny House properties and what to consider: "I'm a fan of the fair, was already here three years ago and that also got the ball rolling for me. Since then, I have also worked for various Tiny House and apartment house manufacturers. The fair is a very good place to network, meet people, find like-minded people and, of course, get a lot of inspiration, talk to various manufacturers and simply immerse yourself in the world of Tiny Houses. It is a must-have for anyone who is thinking about living in a Tiny House." Speaker Katrin Pütz from (B)energy added: "All in all, a super event with many interested people who want to change something about their current living situation and live more sustainably."
Next year, Tiny Houses will again travel to Karlsruhe from all over Europe. The next NEW HOUSING - Tiny House Festival will take place from 30 June to 2 July 2023 at Messe Karlsruhe.