24 Jun 2022
Messe Karlsruhe becomes a festival for Tiny House fans
NEW HOUSING - Tiny House Festival will take place from 01 to 03 July 2022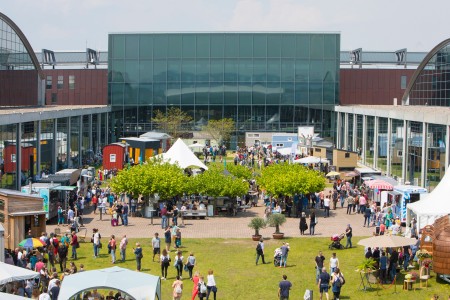 The countdown is on: From 1 to 3 July 2022, the Tiny House community will meet at the NEW HOUSING - Tiny House Festival at Messe Karlsruhe to experience the diversity and range of small, alternative forms of living. At Europe's largest Tiny House Festival, fans of alternative forms of living and those interested will have the opportunity to network with each other and to find out and exchange information about life in the smallest of spaces from manufacturers, suppliers, self-builders, clubs and associations. Food trucks and a bar also invite visitors to linger.
"Whether it's a minimalist lifestyle, a retreat, a retirement home or a home office - the trend is towards small living. We are very pleased to be able to offer the Tiny House community a platform for meetings, exchange of experiences and networking in a relaxed festival atmosphere," says Frank Thieme, project manager of NEW HOUSING - Tiny House Festival. "We invite all Tiny House fans to visit the tiny houses and talk to manufacturers and residents."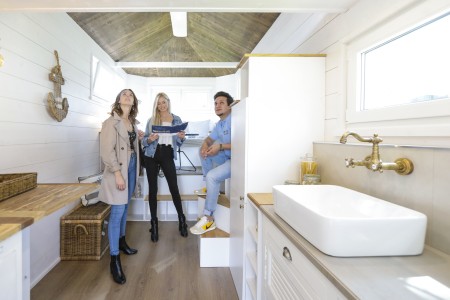 Tiny House Village with around 30 houses to visit
A Tiny House Village with around 30 different Tiny Houses will be set up on the open-air grounds of Messe Karlsruhe, the landscaped atrium in the middle of the four exhibition halls and the area between Halls 1 and 2, which will be open to visitors. Manufacturers will be available to answer questions and pass on first-hand information to interested visitors. Exhibitors from all over Germany will be there, including the joinery Wöhltjen from Achim in Lower Saxony, Tiny House Wohnträume from Leer, Heinz Diekmann from Hamm and tydomo from Cologne. For the first time, there will also be exhibitors from other European countries, including GOATHE SIA Jaunpuntuzi from Latvia, Aurora Company from Poland and Mooble House from Turkey.
New in 2022 will also be the Infomeile in the entrance area of the fair with a variety of advisory services for interested visitors and future residents. Among others, Tiny House associations and the Tiny House Association, of which Messe Karlsruhe is a founding member, will present their work there and actively assist with questions.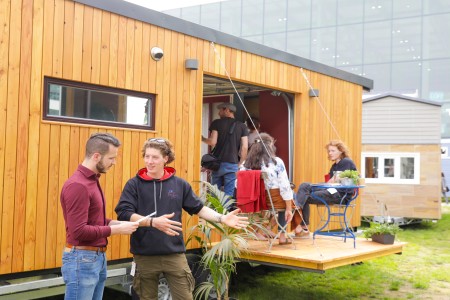 Varied lecture programme provides first-hand information
What do you need to know about the Tiny House project? What help is there with regard to financing and floor space? What is life in a Tiny House really like? And what motivates other community members to take this step? The lecture programme at the festival complements the exhibition and offers insights into successful self-build stories, topics such as self-sufficiency, sustainability and the search for a pitch, as well as informative literature.
Topic-relevant lectures with experts will pass on tips and tricks as well as experiences within the Tiny House community.
Among others, Kevin Rechsteiner, author of "Tiny House - Das große Handbuch", will give an introduction to the trendy topic and tell the story of the origins of the Tiny House movement in Europe. Dennis Czekalla, Berghaus, will answer the question of what it takes to be happy in a Tiny House and the Tiny House consultancy IndiViva from Schorndorf will address the possibilities of acquiring land for mobile houses, sustainability through longevity and go into the basics of land ownership.
Fredi Ozarem and Jana Lehman from the TinyEcoVillage initiative will show how Tiny Houses can be lived in collectively. Architect Mike Rissler and Argra engineer Katrin Pütz will discuss the Solidarity Building Industry (SoBaWi) and the mini-biogas plant as a component for Tiny Houses. In addition, Stefan Diekmann tells the success story of the first Tiny House Hotel in North Rhine-Westphalia PIER 9.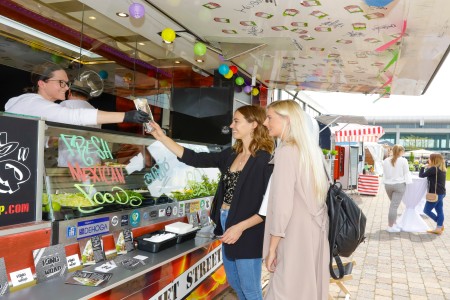 Relaxed festival atmosphere with food trucks invites you to stay a while
Various food trucks in the open air also invite visitors to linger. Street Cookery's takes visitors on a pleasure trip to India with their fresh curries. Leftovercooking's food truck has various vegetarian bowls in store. Classic bratwurst in a roll and chips are also available from showman Krusig. Fluidum will provide visitors with cocktails and non-alcoholic drinks. Popice will provide a sweet conclusion or refreshment in between with their handmade ice cream on a stick.
The Media Lounge offers a place to read and inform. Media partners present themselves there and offer their magazines to take away free of charge.