9 Mar 2022
Sustainable, mobile, informative - The festival for Tiny House fans!
NEW HOUSING - Tiny House Festival will take place at Messe Karlsruhe from 01 to 03 July 2022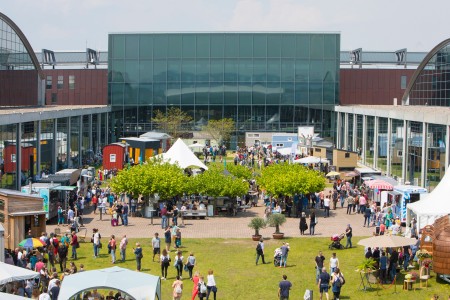 Whether it's a minimalist lifestyle, a retreat, a retirement home or a home office - the trend is towards smaller living and Tiny Houses are becoming increasingly popular. From 1 to 3 July 2022, the Tiny House community will meet at the NEW HOUSING - Tiny House Festival at Messe Karlsruhe to experience the diversity and range of small, alternative forms of living. At Europe's largest Tiny House Festival, fans of alternative forms of living and those interested will have the opportunity to network with each other and to find out and exchange information about life in the smallest of spaces from manufacturers, suppliers, self-builders, clubs and associations.
"After a break of three years due to the pandemic, we are very pleased to finally be able to offer the Tiny House community a platform for live encounters again. With us, information and personal experiences can be exchanged in a relaxed festival atmosphere. The special thing about it: More than twenty Tiny Houses can be visited live to get even closer to the dream of owning your own little home," says Frank Thieme, project manager of the NEW HOUSING - Tiny House Festival.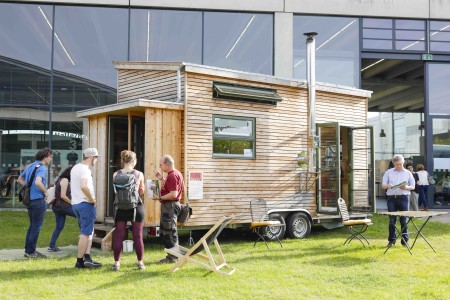 Tiny House Village with more than twenty houses
A Tiny House Village with more than twenty different Tiny Houses, which can be visited, is being created on the open-air grounds of Messe Karlsruhe, the green atrium in the middle of the four exhibition halls. Manufacturers will be on hand to answer questions and pass on first-hand information to interested visitors. Exhibitors from all over Germany will be there, including Schwörer Haus, the German Tiny House Manufacture and Heinz Dieckmann. For the first time, there will also be exhibitors from other European countries, including GOATHE SIA Jaunpuntuzi from Latvia and Aurora Company from Poland. "The NEW HOUSING - Tiny House Festival is a great and important event where you can network and exchange ideas," say Don Ehrenbrink & Stephan Wöhltjen from Konzept Tischlerei Wöhltjen. They will present their Tiny House on Wheels and modular buildings at the festival.
First-hand information in a relaxed festival atmosphere
Topic-relevant lectures with experts from the community will pass on tips and tricks on the construction of Tiny Houses, minimalist living or building law issues to the visitors. "Above all, the desire for personal exchange and relaxed networking has increased in the Tiny House community in recent months. Our festival in the open air and in the countryside is the ideal place for a relaxed exchange with like-minded people. Visitors will find the right people to talk to about their minimalist, alternative lifestyle," says Thieme. Another new feature in 2022 will be the exhibition in the entrance area of the fair. There, Tiny House associations and the Tiny House Association, of which Messe Karlsruhe is a founding member, will present their work and be on hand to answer questions.
Various food trucks and a bar on the open-air site also invite visitors to linger. The Media Lounge offers a place to read and inform yourself. Media partners present themselves there and offer their magazines to take away free of charge.